This award made by windy is one of the most award that I love most. An award that has its hilarious story. I don't know how to start the Tale, but what I remember before I and Windy became friends because of a Joke. Lainy and Windy...THEY started a joke!!

When it started?

first scene

On May, 2009, I was surprised when I received a long-distance call from Malaysia:

Conversation was delivered like this:
Vilma: Hello, whose on the line please?
Windy: Hi Vilma, it's me JT.
(He have something to tell me, but I can't understand what he said, I decided to put off the call)

We haven't talked too long, since, my mobile phone has a very low volume and I don't understand what he was talking about.

I noticed this someone who called me has a different accent, and he called me directly in my name. If JT called me he will say, "MY DEAR HOW ARE YOU?"

I told Lainy about the call. I sent her a message like this:
"Leyn, JT called me and He wants me to go in Malaysia again to meet him, I am very excited Leyn."

She answered like this:
"Really Ate Vi? "

I didn't even think that Lainy knows this all about, she knows that Windy is the one who pretended as JT.

To make it short, when I chatted Windy four months ago, he revealed to me that he is the one who called me pretending as my special friend. He asked me what I felt when he called me pretending that he is my special friend, and said sorry for playing the joke. I answered Him:
It's ok, i haven't felt anything Windy, instead, I do thank you for your time chatting with me, for the call and for the advices.
2nd Scene:

Yesterday, my boss (Bottom Lines) told me to book him a flight slated on September 26-October 2, 2009 to Manila. Since, I can't find the directory book, I decided to asked Lainy by sending a message in her mobile phone:

Please click the entire conversation here:

Our Journey To Forever: All the World's A Stage, And We are Mere Players.

3rd Scene:

Last night, I received an SMS message from Lainy. - These are the forwarded messages of Windy to Lainy and forwarded to me.

1st message

"Lainy, how to say it? I am in trouble and ashamed too, Duh! I got a school girl pregnant. Haiyoooo! I wanna die. She wants to kill her elf and the baby. What am I to do?"
2nd message
"LAINYYYY! Why no answer from you? You hate me, is it? I thought you are a true real friend."

3rd message
"Lainy, do you think Vilma can help me, I am too shy to ask her. i don' know how it happened. I lost control. "
Ok...dear friends and readers, Please visit the whole hilarious story here:
Wednesday What It's All About (You Gotta Know) # 4
and tell me if I am deserving to receive the
GOLDEN HEART AWARD
.
Thank you for your time reading, A MAIDEN's TESTIMONY.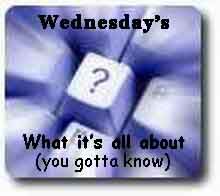 You're invited to join Wednesday's What it's all about Please grab this code at

[[ WmotH ]] Wednesday's What it's all about link is only meant for Wednesday's What it's all about participants
Wednesday's What it's all about link is only meant for Wednesday's What it's all about participants. If you are not joining Wednesday's What it's all about with your own Post but register a non-Meme Post here, a dishonest link will be deleted. Sorry, but that's how the Meme Rule works.
Please enter the your Wednesday's What it's all about Post URL by clicking on Master Linky Banner below