Receiving small things from you're love one is worth keeping. Every occasion, either mother's day or birthday, my
daughter lollii a.k.a Vyne
, surprised and bought something special for me.
The most expensive and valuable that I received from my daughter that I kept in my heart and I treasured most, is the book that she bought from her allowance she kept. Lollii is my lovely and sweet daughter that I love most. She is a reason of my love, happiness, sacrifice, strength, hope and a reason why I become a responsible MOM (cheers!!).
Anyways, I would like to share one of my favorite inspirational words from the book she bought, entitled
"Hugs and Thanks and Lots of Love... for You, MOM"
, written by different authors.
You are someone who has always been my inspiration.. a precious person I will always be so grateful for.. someone whose wise words have guided me through so much.
You are an angel who touches my heart more deeply than anyone else.. and an encouraging soul who lifts me up on the strenght of her belief in me and on the wings of what she sees in me.
You are a hand holder who always shows me the right way to go... a warm shoulder who has dried every tear and who chases so many fears away.. and the mirror in which I can see reflected all the good things about me.
You are a bridge builder who helps me rise above just about anything... and a teacher whose lessons are with me, in some meaningful way, every day.
You are a weaver of hopes and dreams who has connected my past with the present and who is so good at picking out the best colors for tomorrow's tapestry... a nurturing spirit who has helped me plant the seeds for a more abundant life.
You are my anchor and my rock, whom I revere and respect and admire enormously... and will forever be the world's sweetest and most special mother.
This is Who you Are to Me, Mom
--Douglas Pagels--
Hope that you inspired upon reading A Maiden's Testimony.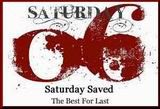 You're invited to join Saturday Saved – The Best For Last. Please grab this code at

[[ WmotH ]] Saturday Saved-The Best For Last link is meant for Saturday Saved participants only
Saturday Saved link is only meant for Saturday Saved participants. If you are not joining Saturday Saved with your own Post but register a non-Meme Post here, a dishonest link will be deleted. Sorry, but that's how the Meme Rule works.
Please enter the your Saturday Saved Post URL by clicking on Master Linky Banner below.