I saved this Saturday for Windy known as
Windmill on the Hill
. Through Lainy of
Lainy's Musings
I met him, since then, we became friends, and I considered him as my big brother.
I am truly grateful for his help when my daughter's blog was hacked and for offering my daughter a new domain in wordpress. Lollii and I was mesmerized by the new layout which was filled with cute, pink flowers. You can go visit it at
iam-loved.com
.
Lollii was truly excited to post but due to the fluctuating connection here in our area and her hectic schedule at school, her writable ideas are ought for pending. She was definitely glad because there's someone like her Uncle Windy to lend her a hand. My daughter, lollii, told me that her blogs url was inspired by those people around her who showed her deep appreciation and affinity though life may throw raging and annihilative phenomena at her. That is how, iam-loved was born...
Again, to you
Windy
, We are grateful for giving us an opportunity to be our friend. You're one of a kind Windy, a person who offer his unconditional help towards us. Thank you and God bless always.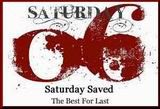 You're invited to join Saturday Saved – The Best For Last. Please grab this code at

[[ WmotH ]] Saturday Saved-The Best For Last link is meant for Saturday Saved participants only
Saturday Saved link is only meant for Saturday Saved participants. If you are not joining Saturday Saved with your own Post but register a non-Meme Post here, a dishonest link will be deleted. Sorry, but that's how the Meme Rule works.
Please enter the your Saturday Saved Post URL by clicking on Master Linky Banner below.