Being

Ms. Popularity

? or Being

Ms. Nobody

?
Which will you choose?
►
Some say Popularity = Stardom and most of our teens,nowadays, aspire being on the top. Using everyone else for their own interests. Talk about Crab Mentality.
►
On the other hand, ms. Nobody remains Nobody after all. Who cares? They don't need her. She doesn't need bitchy, filthy friends like them too.
Most think, school is the kingdom of those rich, nasty kids who only has their beauty yet not using their brains, and yes they're right. You may all have the world's best friends to be yours with just a blink of an eye and a single signature on your One billion dollar check. But, could they be true? or could they be only using you? Party here, party there, that's what they always do with their life, 'cause they have everything except for true comrades.
Funny you may think but truer it will be, Ms. Nobody may not have the popularity she dreams of but she is sheltered with a true family and companions. The more you are being true to yourself, the more you'll get what your heart longed for.
Work
your time and
Love
your friends.
Is it better to have the fewest number of friends who'll be there for you when you fall than having billions of them who wants to see you crawl?
or
Is it better to enjoy freedom, money and fame and all the crowds attention rather than be ignored for the rest of your life?
Admit it or not, we all want to be Ms. Popularity, even I, myself, too. But, take a look at the consequences...
...aren't the burden too heavy to carry by only a single person?
Now, I will leave this question for you...
Who will you choose

? and

Who will you be?
Ms. Popularity

? or

Ms. Nobody

?
Happy reading guys!!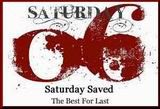 You're invited to join Saturday Saved – The Best For Last. Showcase the Post you prefer for more readership. Grab this code at [[ WmotH ]] Saturday Saved-The Best For Last is meant for Saturday Saved participants only
Please enter the your Saturday Saved Post URL by clicking on Master Linky Banner below.