Money is one of the essential substances of every individual. Money is the key of the whole thing we could do with, for foods, shelters, and basic needs, luxurious and lucrative resources.
Some exploit money in order to be powerful, the basis why some individual become greedy.
Some people striving hard for money just to satisfy their desires.
Some people asking alms, since, they believe this is the fastest and easiest way to have money.
Some people spending their money for nothing.
Some are keeping money for pleasure.
Some are making crime because of money.
Some people are fortunate to have bucks of money.
These are some example how money, matters most too individual daily lives.
For me, I need to keep money in any ways, the important is I and my family can survive and I have something to use for rainy days. Just like when my adopted son KENKEN got sick one month ago.

I'm still waiting my son to decide if he wants to break his Bamboo Coin Bank. He thinks it deeply.

He understand that I have no money to spend for his medication.

He was been affected by a bacterium, a cause why he got fever. And I need to bring my son to a doctor for check-up. Since, we have a delayed salary, I decided to open the coin bank (made of bamboo) of my adopted son. We are fond to kept our exist coins to a bamboo as a bank of my son. We raise Php900.00 more or less for one month. I did not intend to break his coin bank but I have no choice. I need something to spend for his medicine.
His bamboo coin bank is waiting.

Hmmm...even the bamboo coin bank helping my son to think.

At last, he decided to break it.

And now, he helps to arrange and count the coins.

Small amount but it helps too much in his medication.
Well, health is precious, what should be the value of money if we will not use. Anyhow, my sister buys a new coin bank for my adopted son. This time, we keep bills and coins in his new coin bank. I need to save money for his unexpected needs.

Hope you enjoy my Monday Matters all about, this is a Maiden's Testimony.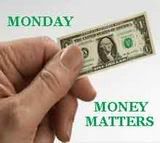 You're invited to join Monday Money Matters Please grab this code at

[[ WmotH ]] Monday Money Matters link is meant for Monday Money Matters participants only
Monday Money Matters link is only meant for Monday Money Matters participants. If you are not joining Monday Money Matters with your own Post but register a non-Meme Post here, a dishonest link will be deleted. Sorry, but that's how the Meme Rule works.
Please enter the your Monday Money Matters URL by clicking on Master Linky Banner below.