SHOCK ABSORBER
What would be your reaction if you're caught in a situation where you can't teleport automatically in a place unknown to mankind? Do you possess the word called patience? Do you often times' like what you hear? Do you like to offer advices to spread tranquility to the blazing situation? Are you CERTIFIED SHOCK ABSORBER?
Well, all I can say is that I am grateful that I was born to possess patience and I am a listener who understands people aside from having good qualities. Anyways, the rest of the post would not tackle about me but instead, to those individuals who made me their shock absorber.
We'll talk about the situation in our Office.
It is so hard let people understand that not all the employees or employers of the COMELEC are corrupt. I am also one of those who criticized COMELEC before when I was not yet an employee. But, when I started to volunteer in this type of job, I found out that working in this office is not quite easy. Why did I say so?
A brief summary of our daily agendas:
Everyday we have a volume of client claiming for the following, to wit:
Voter's Identification Card
Voter's Certification
Registration Form (for New Registrant, Change Status and Transfer)
The Comelec Manila sends 30% Voter's ID intended for General Santos. We issue Voter's Certification daily for the registered voters and they paid P75.00, as instructed by our boss (Bottom Line) that those who claim for Hospitalization are for free. Since, we have on-going satellite registration in 26 Barangays, the office didn't issue a Registration Form instead we adviced the applicants to wait for the schedule slated in their Barangay.
My experience goes like this.
There is no day that those who claim their Voter's Identification Card and Voter's Certification would stop attacking us through shouting using delirious words, because they don't highly discard our explanations. They kept insisting that the service of the COMELEC is erroneous.. BLAH…BLAH…BLAH….It goes like this:
"Why is it that I have no Voter's ID ? I vote every election!! I need my ID now!!!"
Ohhh….we explained again the reason. But what we got is a shout..
"THAT's BULLSHIT!!" then he went out MURMURING and BUMPED the DOOR!!
My deerie what a world!!! Another one..
A woman was looking at our officemate, since he was in the field; we entertained and asked what she needed. She asked a Voter's Certification, when we printed the said Certification we told her to pay P75.00 only. She looked again at our officemate who knew her and she was asking it for free, too bad because she was asking around people who were also waiting for their Voter's Certification, then there's a long confrontation between our EA Lainy and that woman. Until the issue was moved to our Election Officer (Bottom Line)..and this was what our boss adviced: "If you don't want to pay, I will be the one to pay for you Madam" but please, if you're asking something just say it moderately…." Well, the woman said sorry and she asked to stay for awhile on the sofa to make herself calm…ohhhh..when I looked at her face, I thought she can't find a good air tobreathe because of SHAME.

The MAN BUFFALLO!!!
This is the worse part that I experienced, one of the client confronted because of the wrong entry of his wife's middle name, he kept explaining but he insisted that we erroneously typed her middle name. We decided to search her name in the Voters Book and we found out that her wife misspelled her middle name when she wrote it. But he didn't listen, so what I did was I stand between them while arguing.. That man, wanted to punch our casual, good thing that he listened to us and I talked to him politely and adviced him that he needs to calm down, though I am already afraid that time.
A WOMAN BUFFALO who triggered me.. This woman is a teacher, she asked me that she want to register her son now, she want it now!!! Because her son needed some documents from our office!!!! Gosh, I explained to her that we are serving the other barangay and that she needs to wait for their schedule in their barangay. She said, why is it that you have no registration here in your office? If you have a Barangay Sattelite Registration then you also have here in the office so all the applicant can register any time they want..like in our school..we put some Computer here and there to serve our students…Again, I explained and adviced her to talk to our boss, but she can't wait..she kept on talking. What I did was, to keep my eyes open and my ears closed
Those are only a glimpse of what I experienced in our office; there are still a lot of bad experienced from those people who don't want to understand. Too sad because some are professionals and educated.
Anyways, my friend Lainy of Lainy's Musings, ranted, raved and whined which made me shiver from fear looking at her beautiful face? She looked like she encountered something that made her vexed. She talked and talked for the whole day.
This was the scenario:
The Budget Office called to inform that they need one representative to come immediately in their office to defend the budget. Since, Lainy was not around, as she was with other South Cotabato EAs to visit our former EA who suffered BREAST CANCER, the budget office asked me to text her to come immediately to their office, as per instruction, I informed her that she is badly needed in that office. She canceled the visit and went to the budget office, when she came back, she said "Ate Vi, they let me wait for almost 3 hours and then asked me to go back tomorrow at 9am" They made me pissed…they don't know that I still have a lot of things to do here! They are wasting my time!! They didn't send us a communication for that schedule and they called us for a meeting without prior notice…asking for immediate attendance and for the last hour they can't serve us." Ohhh…hehehehhe…..
Again yesterday, the BAC called again asking for Lainy's presence to defend the negotiated procurement between the two supplier involved. Then when she came back again.."Two strikes in a row," that would surely delineate what she said .."they called me and let me wait again for 2 hours…," she added and the rest of the rants followed. Hehehehe…well, what should I say..she is still beautiful and she looks gorgeous even if she was in the midst of killing somebody because of her anger. That is why I kept on smiling while she was fuming.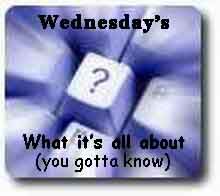 You're invited to join Wednesday's What it's all about Please grab this code at

[[ WmotH ]] Wednesday's What it's all about link is only meant for Wednesday's What it's all about participants
Wednesday's What it's all about link is only meant for Wednesday's What it's all about participants. If you are not joining Wednesday's What it's all about with your own Post but register a non-Meme Post here, a dishonest link will be deleted. Sorry, but that's how the Meme Rule works.
Please enter the your Wednesday's What it's all about Post URL by clicking on Master Linky Banner below