Being her mom, I need to know what she feels. Then I can comfort and advice her every time she needs it. This is a teenage feeling and It would be better for them to experience this so they would be able to know how to deal with.
Another piece of my daughter.
My love's lost. It had gone astray, however, in the middle of the narrow path of unconditional affinity it found a cache where it should have belonged.

Crushes are sweet yet love bears satisfaction as well as egregious agony. In the midst of my journey for sweet admiration, I found the golden key to my once locked heart.

I found my daisy. My humorist daisy. The flower which bears nobility and beauty and grace. The flower who holds my fragile heart. The one where my nurtured self liveth. The golden daisy truly resembles him- the way he makes me crackle up is like how a daisy would give me smiles whenever it sways. The petals will likely be his divine appearance-it was his mild yet sweet face which definitely melts my interred bones. He was my flower prince- or so, I thought.

It was to my great surprise that this sweet, petite daisy turned into my gardens rose. A flower still of beauty, but agony and hauteur lies behind its every sharp thorns. Ever since, I told my flower prince how fond I am of him, he left me and for no reason, he turned himself into a thorn-filled blood-colored rose.

The rose! It's a precious flower and certainly, one of the sumptuous gift of God. He was of that now. He was a rose. All I can do is to watch him from afar and glance at his grinning face just how a little girl would stare at a rose which she can neither touch nor hold. I was that girl. I dare not lay a hand on that flower for it was delicate and I knew very well that those prickly little thorns would hurt me as much as he did. Yes.. all I can do is watch and smile wondering when my rose would transform back into the daisy I had once loved before.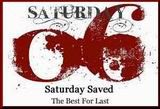 You're invited to join Saturday Saved – The Best For Last. Please grab this code at [[ WmotH ]] Saturday Saved-The Best For Last link is meant for Saturday Saved participants only
Please enter the your Saturday Saved Post URL by clicking on Master Linky Banner below.