It was such a shocking virtual encounter when I opened my daughter's blog and I found out that it was totally gone. Like it was some balloon that had just flown far away from anyone's sight. I panicked because the hacker might find some confidential information and might use it against us. The good thing is, there's
Uncle Windy
who helped us recover her blog,the day after it was hacked, and fortunately, nothing seemed to be lost. Lollii just need to renew her blog and she wants to extend her gratitude to those who had helped her.
Thanks for SATURDAY SAVED-The BEST for LAst.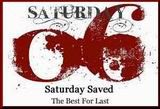 You're invited to join Saturday Saved – The Best For Last. Please grab this code at

[[ WmotH ]] Saturday Saved-The Best For Last link is meant for Saturday Saved participants only
Saturday Saved link is only meant for Saturday Saved participants. If you are not joining Saturday Saved with your own Post but register a non-Meme Post here, a dishonest link will be deleted. Sorry, but that's how the Meme Rule works.
Please enter the your Saturday Saved Post URL by clicking on Master Linky Banner below.